Arroz Moro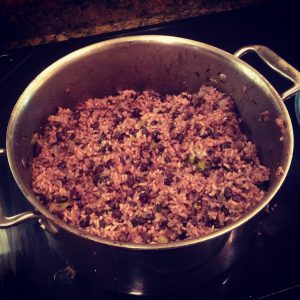 Arroz Moro is made with black beans and rice cooked together. Congri is basically the same but is made with red beans.
Moro is a classic side dish for Cuban meals with pork as a main dish. If you have some fatty pieces of pork or pork skin (and bones for the stock) you can use them for your Moro recipe. Cuban cuisine is pig-centric; for a vegan version, omit the animal products and add a bit more olive oil.
Yields 8 servings
INGREDIENTS:
3 cans (15 ½ ounce) black beans with liquid
4 ounces fatty pork (bacon can be substituted) in 2 inch pieces.
4 cloves of garlic, minced
2 tablespoons olive oil
1 cup grated onion, – (use a box grater)
1 cup grated green pepper
2 teaspoons salt
1 bay leaf
1 tablespoon ground cumin
1 tablespoon dried oregano
2 cups long grain white rice
1 1/2 cups chicken or pork stock. Water can be substituted.
2 tablespoons red wine vinegar
1. In a large pot or Dutch oven, heat the oil and pork over medium heat for about 10 minutes. The pork doesn't need to be browned.
2. Add the onion, green pepper, garlic and salt to the pot. Cook for about 5 minutes, stirring occasionally.
3. Add the herbs and rice and stir for another minute or two.
4. Add the beans and their liquid, then the stock and vinegar. Increase heat to high. Stir well. When it begins to boil, cover pot and reduce to a simmer.
5. Cook covered for 35 minutes.
6. Take the covered pot off of the heat and allow to sit covered for 10 minutes. Fluff the rice a bit with a fork. Remove bay leaf. Serve immediately or reheat the next day.
¡A gozar! Enjoy!
Thanks to Arturo Gomez for clarifying the difference between Arroz Moro and Moros y Cristianos, which is black beans poured on white rice.