I'm neither a certified geek nor a Social Media expert. But I've been using it for years to help promote my band PALO! so I decided to share some of what I've learned. My ideas are mostly intended for individuals and small companies. This is just my opinion; your mileage may vary. I'll start with some thoughts about Twitter, based on my approach.
"I don't get Twitter!"
I've heard many people say this. I didn't get it either when I first heard of it. I was thrown by the whole "What are you doing now?" thing. Why would I care?
I've learned that Twitter is a fantastic way to communicate and socialize. Yeah, sometimes I tell people what I'm doing, but it's open to almost anything. Unlike Facebook, Twitter doesn't offer photos, groups, or events. However, you can link to anything in a Tweet. Many users see Twitter's streamlined, mobile-friendly format as an advantage. I've used it to form many important friendships and alliances.
Twitter profile checklist:
An easy handle. Ideally, your Twitter user name will be short and easy to say and spell. Avoid underscores and dashes if possible. Companies should try to keep all of their Internet presence consistent. For instance, everything I do with my band PALO! uses "gopalo".
A good pic. You need a picture. You are not a huevo/egg: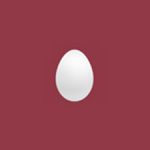 If you're a company, use your logo. In the tiny world of Social Media, it's important to format your logo to occupy most of the area of a square. It must work at very reduced sizes. Ornate designs or old-school "letterhead" logos don't work.
A descriptive bio. Put some thought into this. It should succinctly express what you want people to know about you. Use the appropriate tone for your personality or brand.

Your real location. To build your local network, it helps if people know where you're located.

A link to your website. Even a Facbook profile or page is fine if that's all you have. Since Twitter doesn't include pics, etc. this gives people a way to find out more about you.

At least a few tweets. If I find someone who has never tweeted, I'm very hesitant to follow them.

Custom look and background. This is more important for companies. As an individual, you can just customize the available designs and colors to fit your personality. Make sure to create good contrast between font and background color.
If you're new to Twitter, just dive in, and give it a chance. You'll get used to it. You may grow to love it as much as I do!
Stay tuned for future articles about Social Media. Until then, please follow me on Twitter and tweet me to say hi!