Steve's BBQ Sauce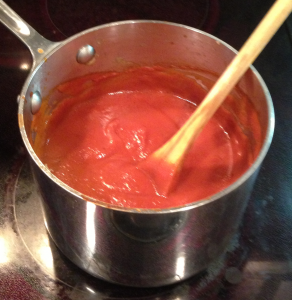 There are so many kinds of barbecue sauce available, so why make your own? Because it's awesome. Debate rages between devotees of different styles. I developed this recipe because I like the balance of vinegar to tomato with the sweet onion undertones and a touch of heat. Enjoy!
Makes about 2 cups.
Ingredients:
1 large Vidalia onion, chopped
3 cloves garlic, chopped
1 T olive oil
A pinch of salt
1/2 cup apple cider vinegar
2 T brown sugar
2 T Worcestershire sauce
1/2 teaspoon cayenne
1/2 teaspoon dry mustard
1/2 teaspoon black pepper
One 6 oz. can tomato paste
6 oz. ketchup – use empty tomato paste can to measure
Directions:
In a small sauce pan, heat oil over medium heat.
Cook onion and garlic in the oil with a pinch of salt until it starts to brown.
Add vinegar to pan and stir to deglaze for about 10 seconds.
Transfer to blender and puree. Set pan aside.
Add remaining ingredients to blender and blend well.
Return sauce to pan and simmer for 30 minutes.